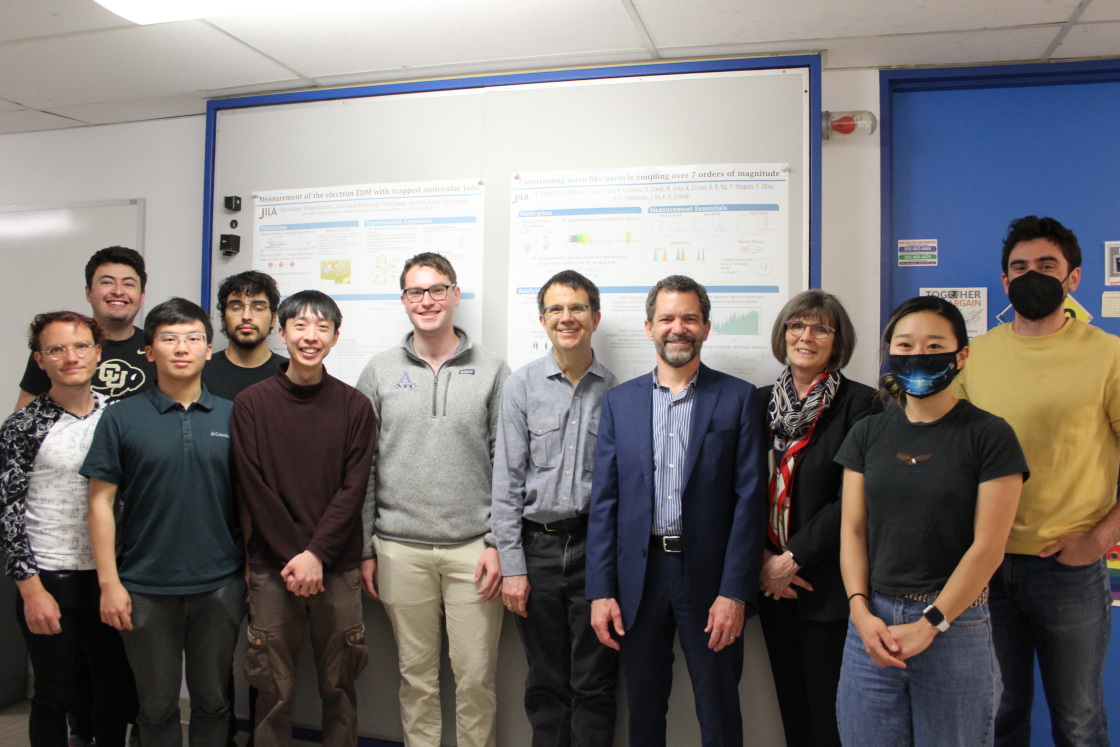 Image Credit
Kenna Castleberry/JILA
University of Colorado President Todd Saliman visited JILA this past week and toured the laboratories at the invitation of JILA and NIST Fellow Eric Cornell.
Saliman was impressed by the research team and Fellows and applauded their work.
"You are all working to change the world," President Saliman said.
His visit was due to an invitation from JILA and NIST Fellow Eric Cornell to tour his laboratories. Cornell has been a scientist at JILA since the 1990s and research impacts the fundamental areas of atomic, molecular, and optical physics well as quantum mechanics. His work on the Bose-Einstein Condensate, an ultracold quantum system, won him and fellow researcher Carl Weinman Nobel Prizes in 2001. From that time on, Cornell has continued to research atomic and molecular optics, mentoring many graduate students and postdoctoral researchers in their careers.
President Saliman viewed two of Cornell's laboratories, looking at several laser systems the researchers use to study electrons and other particles. Cornell, for his part, was delighted to explain his research and introduced his entire laboratory team to President Saliman. The President was amazed by not only Cornell's research but the team, ranging from recently graduated undergraduates to post-doctoral researchers. President Saliman asked Cornell about the impact of his research on both scientific discovery and his work mentoring students and researchers in his laboratory.
"The students and post-docs are my pride and joy," Cornell stated.
Philip Matokyn, Executive Director of CU Boulder's CUbit Quantum Initiative joined the visit. CUbit connects quantum researchers across the University with Colorado and the broader CO ecosystem. quantum companies. Makotyn, who studied at JILA under Eric Cornell for his Ph.D., spoke to President Saliman about the growing quantum community within the state. President Saliman was engaged about the impact of quantum technology and CU and JILA's historic role in the field.
Before ending the tour, the president asked to take a selfie with the Cornell laboratory team. Many of the team members spoke briefly with the president about their work. President Saliman asked how many hours they worked, with the researchers replying that a typical day ranged from seven to ten hours.
Written by Kenna Castleberry, JILA Science Communicator